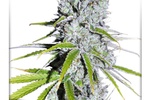 Strain detail:
Seedbanks that offer CBD Skunk Haze® Fem
Seed type:
Feminized
Autoflowering:
No
Phenotype:
Hybrid
Profile description:
In 2012 Dutch Passion began working with the CBD Crew to produce a range of feminized cannabis seeds which produce plants rich in cannabidiol (CBD). A variety with over 4% CBD is regarded as CBD-rich. Traditionally cannabis has THC levels of 12–21% and CBD levels of 0.1% to 0.3%. However some varieties have now been cultivated with much higher CBD levels. CBD has a number of important properties. It can help with relaxation and nausea, reduce anxiety and improve sleep. CBD varieties may allow users to medicate themselves yet still think clearly and function well. For recreational users, the new CBD varieties may be a less intense but equally good alternative to traditional varieties. CBD Skunk Haze® comes from a project between Dutch Passion and CBD Crew. The goal was to achieve an optimum ratio of 1:1 between the two main cannabinoids. In terms of medical use, low THC content is preferred for some medical patients who want a relaxing effect without the intensity that some high THC varieties have. Recreational users find that high CBD levels prevent anxiety or paranoia. CBD Skunk Haze® contains 7.5% THC and 7.5% CBD. To create this strain, Dutch Passion's Haze/Skunk (winner of the 1992 High Times Cannabis Cup) was carefully crossed with a CBD-high variety. CBD Skunk Haze® produces large tall plants. This sativa/indica cross (50:50) produces large buds which are not too dense. The aroma and taste are of spicy cedar wood with tones of citrus, pine and mint. CBD Skunk Haze® grows well indoors and in a greenhouse. The flowering period is approximately 10 weeks. 1st prize – "Medical" – Karma Cup, Toronto, Canada 2016 2nd prize – "CBD" – Lift Expo, Vancouver, Canada 2016 2nd prize – "CBD" – Lift Expo, Toronto, Canada 2016 3rd prize – "Sativa" – Treating Yourself Expo, Toronto, Canada 2013
Independent & Certified Tests:
This strain has no independent and certified test yet.


Public Tests:
This strain has no public test yet.