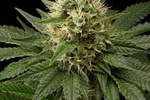 Strain detail:
Seedbanks that offer Dinachem Fem
Seed type:
Feminized
Autoflowering:
No
Phenotype:
Hybrid
Announced yield:
125 (g)
Profile description:
Dinachem is the latest version of the mythical elite clone ChemDog, in the seed form. To reproduce and enhance its vigor, we have used an original clone and we have crossed it with a select clone of Guava Chem, injecting new energy and vigor, yet preserving its delicious flavor of authentic original ChemDog. The ChemDog has an incredible pedigree, it is the mother of NYC Diesel, Sour Diesel and OG Kush. It´s an elite clone isolated in 1991, in the East Coast of the USA. The clone is 21 years old and has lost a lot of vigor, leading to a declining production. We found interesting the project of gathering the quality of ChemDog in the seed form and bring back the vigor and productivity that every grower wants. The GuavaChem (or GuayabaChem in Spanish), is the result of the 4th generation of ChemDog stabilized, grown by the same breeder for many years and is very close to be an IBL or Inbreeding Line, a genetic line very stable and uniform. It looks very much like the original clone, available in seed, which allows us to keep genetics for a long time and also select the best to cross with the mother. We have to acknowledge the participation in this project of the legendary breeder and creator of the strain, ChemDog, which has contributed with Guava Chem seeds and the elite clone. From this batch of seeds we selected the most stable plants and best quality to cross them with the original clone. Dinachem´s aroma and flavor is eye popping, getting your attention right away. It´s an unique taste, pungent and fragrant, like lemon mixed with petroleum and a hint of pine leaves.
Independent & Certified Tests:
This strain has no independent and certified test yet.


Public Tests:
This strain has no public test yet.