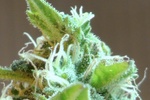 Strain detail:
Seedbanks that offer Domina Haze Fem
Seed type:
Feminized
Autoflowering:
No
Phenotype:
Hybrid
Announced yield:
100 (g)
Profile description:
Super Silver Haze is one of the world's best-known Haze varieties. The strong smell of incense, spices, eucalyptus, paprika and several more hints that we can't quite identify…. We knew what we were looking for by using the reversed pollen of this variety to pollinate one of our own varieties, the result of crossing Jack Herer with Black Domina: our Haze version of Black Jack. It took us a long time to isolate this phenotype, but it's been worth it — the results are simply sensational. A hybrid with a sativa-rich structure, with really fast flowering times. It grows long branches with well-proportioned internodes, which become filled with flowers. Plants with dark, broad leaves, although producing many flowers, maintaining a highly stable calyx-leaf ratio. Indoors you should leave it around 15 days for vegetative growth for a good yield. Owing to the high proportion of sativa in its genetics, you'll need to watch out for its nutritional needs (especially during flowering) to optimise its performance in terms of psychoactivity, flower production and flavour. Growing to 70-80 cm indoors (in 7-litre pots) it'll give you an abundant crop. We recommend using a soil substrate with organic fertilisers when growing this variety. Domina Haze is ideal for growing outdoors, where it will realise all its potential for high yield and a great flavour. When pruned adequately, it should give you bushes that are several square metres in circumference. A sturdy plant with vigorous hybrid growth both in its vegetative cycle and during flowering. It's ideal for SCROG or for redirecting to optimise the crop. And if pruned it will produce several central tails and branch out even more. It flowers within 60-65 days indoors and outdoors it should be ready by the first week in October. Very short flowering times for a plant with such a notable sativa component. It is advisable to "trim" it of any leaves that hinder optimal Light absorption, as well as any leaves or branches that might cause the plant to waste energy when flowering. When you try this variety, the high is steady and stimulating, but without making you edgy. Ideal for winding down after a hard day's work. The smell will have everyone around you turning round and staring with envy. Because Haze is something else, in a different league…
Independent & Certified Tests:
This strain has no independent and certified test yet.


Public Tests:
This strain has no public test yet.