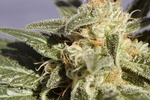 Strain detail:
Seedbanks that offer DR. JEKILL Fem
Seed type:
Feminized
Autoflowering:
No
Phenotype:
Pure Indica
Announced yield:
125 (g)
Profile description:
Diesel genetics in the United States basically come from two or three legendary mothers that generated even more generated X clones. One of these is Chemdog D Clone (Chemdog x Kush), which gave rise to such varieties as Sour Diesel. For our selection we took the flowering time into account, as some commercial NYC Diesel varieties have a flowering time that is too long for novice growers. We made a selection from over de 2000 regular seeds from a mother plant that an American friend of ours had on the Costa del Sol. He told us that its mother in turn was a direct descendent of the legendary D Clone (elite clone), improved only endogamously. A hybrid that has become stabilised over the years and has adapted well to the climate of southern Spain. The smell of the females that we selected was incredibly intense, and the flowering time was over 10 weeks, with the more sativa-rich varieties needing 12 weeks. To shorten these flowering times, we decided to cross it with a mother of our ultra-fast-flowering Afrodita#1. The result is a 70%-sativa hybrid, but with a fast flowering time of only 60-65 days. Some will flower even earlier and not grow as tall (the average height indoors is 1.20-1.40 m). Outdoors the plant may grow to over 2 m tall. It produces woody stems with a short internode. As the plant grows vigorously, we recommend very long vegetative cycles. You'll need to stay on top of the issue of feeding it, because it demands large amounts of fertilisers and additives (particularly chelate compounds). Optimal assimilation will depend on the grower's control of EC (1.2 during growth; 1.8-2.0 during flowering) and pH (5.8-6.2). The plant's preferred substrate has proved to be organic soil in large plant pots, to optimise root growth, as they tend to colonise the growing medium quickly in a well-aerated substrate. Growing by flooding in pools has resulted in abundant yields of over 500 g/m2. People say that the effect and flavour varies according to whether you grow NYD with a chemical or organic fertiliser. The flavour is a mixture of fine woods, fresh acidic fruit and diesel. Piquant, producing large amounts of resin, and large bunches of flowers that harden after six or seven weeks of flowering, the plant will need more P-K and gradually higher EC to reach 2.2 by the eighth week We strongly advise using carbohydrates or molasses after the second week of flowering to bring out all the flavour of one of the all-time-great varieties. It covers several square metres of space both outdoors and indoors, as it is a lushly-branching plant with a high leaf density. A highly stable variety that will give you at the most two phenotypes, making it ideal for using "Sea of Green".
Independent & Certified Tests:
This strain has no independent and certified test yet.


Public Tests:
This strain has no public test yet.