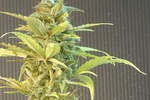 Strain detail:
Seedbanks that offer LA BLANCA MAXAUTO Fem
Seed type:
Feminized
Autoflowering:
Yes
Phenotype:
Hybrid
Announced yield:
40 (g)
Profile description:
The result of crossing with GWS is greater branching of the lower part of the plant. The buds begin to lengthen, producing pretty flower buds that you should try to keep compact, as otherwise the buds tend to be rather flaccid. La Blanca also produces a larger amount of resin, with drops of resin making the buds glossy. La Blanca is one of the flagship varieties of our seed bank, with genetics that have been improved over many years. In some phenotypes of this variety signs of its "White" heritage are very much in evidence, including the aroma, high psychoactivity and the large number of crystals covering the buds. Our aim was to achieve a rudelaris variety that would provide height and yield to this cross while maintaining the White characteristics already mentioned. Growers who have tried out the variety and compared it with crops of the "original" La Blanca have told us that the similarities were very strong. Some of them even referred to their autoflowering growing area as an "Afghan crop in miniature", confirming the success of the selection and crossing of this variety. The yield is com-pact and of high quality: up to 55 grams per plant outdoors and 15-25 grams indoors. Results in greenhouses have confirmed this variety's optimal adaptation to properly fertilised soils, with increased height and more compact buds. Similar results are obtained with hydroponic systems, under which this plant develops most quickly and with the highest yield. It grows vigorously, with thick stems and large, lush leaves. Indoors it reaches an average height of 40-60 cm, and up to 85 cm outdoors. A considerable amount of the flavour/aroma of its White relative is maintained. From seed, the indoor cycle with a photoperiod of 12/12 or 14/10 is 8-9 weeks for optimal ripen-ing. Outdoor flowering cycle: 3 months. Planting in early spring recommended.
Independent & Certified Tests:
This strain has no independent and certified test yet.


Public Tests:
This strain has no public test yet.