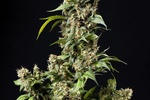 Strain detail:
Seedbanks that offer Orange Candy / Naranchup Fem
Seed type:
Feminized
Autoflowering:
No
Phenotype:
Hybrid
Announced yield:
125 (g)
Profile description:
To create this variety Philosopher Seeds used Naran J, a prominent clone from an old strain developed by Reggae Seeds. It comes from a cross between New York Diesel and Morning Glory. After crossing this hybrid and their Tropimango reversed female they have improved the delicious and unique orange flavor of Naran J while adding the vigor of the male parent. This cross didn't happen by chance since they were convinced that the diesel flavor would further enhance the special citrus notes of Tropimango. Suitable for indoor, outdoor and Guerilla crops. Unique orange flavor. Orange Candy is a plant with robust, low and chunky structure and short internodal spacing. If grown outdoors, pruning the tops of the branches is recommended to promote lateral branching and a more bushy shape, which increases production and makes the plants easier to camouflage. On the other hand, it is recommended to use the SOG technique in indoor grow rooms with 20–25 plants per m2. Removing the lower branches is advised to promote the development of a prominent central bud. Do not remove these branches if less plants are used (9 to 12 plants per m2). Orange Candy is a highly demanding plant with regard to nutrients, which it easily transforms into abundant buds. This variety has the peculiarity of being very sensitive to the type of fertilizer (organic or mineral) used. In organic farming, its aroma is subtle, refined and complex. It will get more intense but less refined with mineral nutrients. Orange Candy is suitable for all types of systems and growers since it is resistant to pests and molds and can easily withstand nutrient or temperature imbalances, thus being a very easy to grow cannabis strain. While we may occasionally have difficulty in defining flavor, Orange Candy leaves no doubt at all. A burst of orange flavor in the mouth gives way to a delicious diesel aftertaste. A sublime marriage for the true connoisseur.
Independent & Certified Tests:
This strain has no independent and certified test yet.


Public Tests:
This strain has no public test yet.