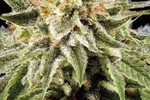 Strain detail:
Seedbanks that offer White Rhino Fem
Seed type:
Feminized
Autoflowering:
No
Phenotype:
Pure Indica
Announced yield:
225 (g)
Profile description:
A spinoff of the world-famous White Widow cannabis and a dominantly indica hybrid with medicinal properties. As a cross between White Widow and an unknown strain from North America, White Rhino is a blend of the finest characteristics from Brazilian, Indian and Afghanistani strains. Just like White Widow, it is loaded with crystalline resin glands. They grow so strongly they cover the entire plant, even the stock and stems. White Rhino is used for effective relief of chronic pain. Fortunately White Rhino is not a typical specimen of a pachyderm - she grows up to a short, round and bushy plant with strong branches and develops way more than only one or two horns, exhibiting that she is obviously dominated by Indica influences. White Rhino is the perfect choice for the ScrOG and SOG method and performs great outdoors as well. White Rhino's genetic composition is very similar to that of White Widow, it is comprised of Afghan, Brazilian and South Indian. White Rhino may be a small plant, but the productivity is impressive. Indoors it takes her 9 weeks to produce those large, dense and elongated buds. As the name already suggests, the buds are riddled with so many resin glands, that they look as if it had been snowing. If you produce your own hash or BHO, White Rhino will serve very well. Furthermore she is not stingy when it comes to the cannabinoid load and flavor. The buds release a sweet and fruity taste when smoked. Savored in moderate amounts the induced high relaxes the body, boosts the creativity and makes you talkative, but consumed in a higher quantity she will flag you down and make you drowsy to an extend that your longing for a slumber will become overwhelming. Cannabis Cups: 2nd Bio High Times Cannabis Cup 1996 2nd Champions Cup 2005
Independent & Certified Tests:
This strain has no independent and certified test yet.


Public Tests:
This strain has no public test yet.